Advent Card Discounts
Buy 2 or more advent cards to save 50p per advent.
Buy 10 or more advent cards to save £1 per advent.
(you can mix and match both advent designs)
Discount automatically applied at checkout.
Out of Ink Podcast Enamel Pin Badge
My friend Bea and I started Out of Ink back in 2021. We release monthly episodes where we discuss a chosen topic related to being an artist or running a small business and answer questions sent in by our listeners.
Click here to purchase our enamel on Bea's website.
This is a preorder, see listing for details. Please purchase this pin separately from Bea's other products.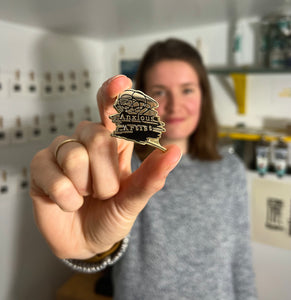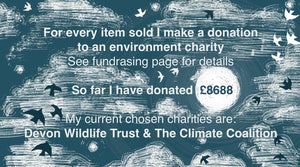 "Full of detail, when you look at her prints you'll find yourself stepping into a world of miniature."
Molly Lemon is a printmaker who specialises in wood engraving. Working onto end grain wood, Molly engraves images inspired by nature and the rural landscapes surrounding her.
Molly works onto each woodblock using traditional hand tools creating thousands of fine marks which make up the final image. The block is then inked up and printed on her 1868 miniature Albion Press.
Concerned with conservation and climate change, Molly aims for her prints to reflect the beauty and vulnerability of the plants and animals we share this planet with. 
Radio 4 Feature
I have been lucky enough to be featured on Radio 4's Saturday Live show 05/08/2023
Customer Reviews
A lovely little print. Arrived extremely quickly and was beautifully packaged. I love it! Thank you very much x

Heather
Absolutely blown away by the beauty of these prints. Completely recyclable and plastic free, packaging with super fast delivery. I am so happy to finally have a piece of Molly Lemon art, and ecstatic to have been able to gift the same piece to my niece.

Zoe
A little piece of perfection. Wonderful detail and beautifully packaged. Thank you very much.

E Theobald
Plastic Free Packaging